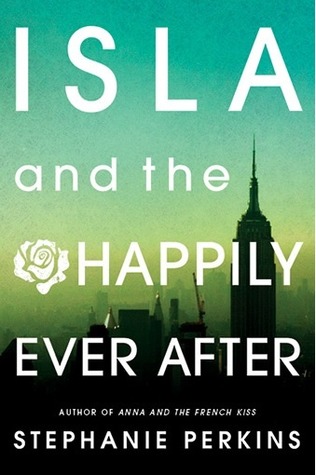 Isla and the Happily Ever After


Stephanie Perkins
August 14th 2014 by Dutton
Young Adult // Romance // Contemporary
Book 3 in Anna and the French Kiss series
ebook, 352 pages
Goodreads // Amazon


★★★★★

From the glittering streets of Manhattan to the moonlit rooftops of Paris, falling in love is easy for hopeless dreamer Isla and introspective artist Josh. But as they begin their senior year in France, Isla and Josh are quickly forced to confront the heartbreaking reality that happily-ever-afters aren't always forever.

Their romantic journey is skillfully intertwined with those of beloved couples Anna and Étienne and Lola and Cricket, whose paths are destined to collide in a sweeping finale certain to please fans old and new.


Read: Aug 14 — Aug 17 (2014)
Source: own
Rosie's Thoughts
*fangirling is stuck*
I can't stop raving about Isla!
Ah, shoot: I thought I liked Anna, and I thought I loved Lola, but Isla is just... so dang good.
I cannot gush enough about how much I loved Isla and Josh! Right from the beginning, Isla is all about Josh, borderline stalkerish! Which I admit is kind of creepy, but I remember having a crazy crush on this guy in high school once upon a time, so I can't judge too harshly... It got better once their first date rolled around. And, oh the cuteness!
Unlike Anna and Lola, Isla got with her love interest right from the beginning of the book. And instead of focusing on all the struggles and complications that arise trying to get into a relationship, Isla's story focuses more on the problems and insecurities that happen during the relationship.
I wanted to CONSUME this book and never put it down - to just keep reading until I reached the very last page. Life circumstances kept that from happening - grr - but I pretty much had a constant smile on my face. Unlike Anna and Lola, Isla took place in multiple countries. New York (Manhattan), Paris and even Spain! With Anna, I had wanderlust, but with Isla? Multiply that times a thousand! Coming from someone who's never even been outside of the United States. Luckily, I've had the chance to visit Manhattan, at least.
Anyway. I totally dug Josh's character. A charming artist. Who is making an autobiographical comic book. Josh knows what and who he wants to be. Isla, on the other hand, struggles so hard with her future. (Isla, honey, I know how you feel!) At the end of the day, that internal struggle puts a strain on her and Josh's relationship and they fight to see if they come out on top.
I was deeply satisfied with their romance and, instead of loving the slow-burn romance like in Anna and Lola's lives, I got the insta-attraction that I can't help but need in my life sometimes. Whenever Josh and Isla were together, I just smiled so big my cheeks hurt. :D
iPod Picks

Kiss Me // Ed Sheeran // Plus
Play me