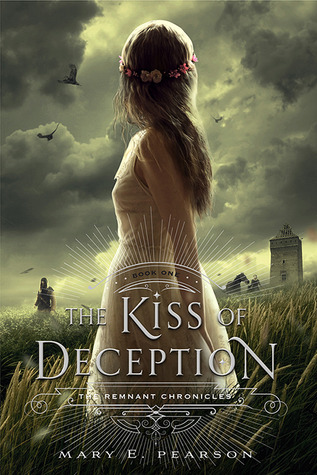 The Kiss of Deception

Mary E. Pearson
July 8th 2014 by Henry Holt
Fantasy // Young Adult // Romance
Book 1 in The Remnant Chronicles series
ARC ebook, 492 pages
Goodreads // Amazon


★★★★★

A princess must find her place in a reborn world.

She flees on her wedding day.

She steals ancient documents from the Chancellor's secret collection.

She is pursued by bounty hunters sent by her own father.

She is Princess Lia, seventeen, First Daughter of the House of Morrighan.

The Kingdom of Morrighan is steeped in tradition and the stories of a bygone world, but some traditions Lia can't abide. Like having to marry someone she's never met to secure a political alliance.

Fed up and ready for a new life, Lia flees to a distant village on the morning of her wedding. She settles in among the common folk, intrigued when two mysterious and handsome strangers arrive—and unaware that one is the jilted prince and the other an assassin sent to kill her. Deceptions swirl and Lia finds herself on the brink of unlocking perilous secrets—secrets that may unravel her world—even as she feels herself falling in love.
Read: Sep 12 — Sep 19 (2014)
Source: Netgalley
Rosie's Thoughts
I received a copy from the publisher/author in exchange for an honest review.
I went into The Kiss of Deception with some skepticism because I was afraid the hype monster would jump out and scare me. Also, it's almost 500 pages, and... I'm a baby when it comes to big books. I get intimidated. 
But this book did not disappoint! Oh my gosh, did it make me happy. Lia (a princess who is about to be married off into another kingdom) runs away before she even gets a glance at the prince, whose "daddy settles his affairs for him." She takes along her friend Pauline, and they steal a couple of the kingdom's fastest horses. 


Duty. That was a word I hated as much as tradition.


All of the "Songs of Venda" and "The Last Testaments of Gaudrel" in between the chapters threw me off and didn't make sense t o me a lot of the time. But that is far from the only thing that threw me off, because just like the title clearly states, there was massive deception — even for the reader! Though the book contains multiple points-of-view, it's significant in the trickery. I had to go back and re-read the chapters from the assassin and the prince's mind to clarify that I wasn't crazy, ha ha. You'll have to read it to know what I mean.
Lia and Pauline arrive by a seaside town called Terravin, and take up jobs as barmaids. Two men (assumed friends) arrive to town shortly after Lia and Pauline take up residence in a small cottage behind the bar where they work. Rafe and Kaden are outsiders, and two handsome men — and Lia, who has tried hard to keep a low profile, is the object of both of their affections (and they know exactly who she is). One is the prince of Dalbreck to whom she was engaged, and one is an assassin of Venda. But the book is so cleverly written so that you're not quite sure who she's falling for (yes, it's definitely a "love triangle" but if I'm honest, I liked it).
Basically, I'm itching for the sequel! It comes out next year, but I have no idea when and I am quite sad about that. I hope it's earlier in the year rather than later!
Book Highlights
Maybe there were as many shades of love as the blues of the sky.
"Sometimes we're all pushed to do things we thought we could never do."
iPod Picks

Impossible // Anberlin // Dark is The Way...
Play me


Distance // Christina Perri // lovestrong.
Play me