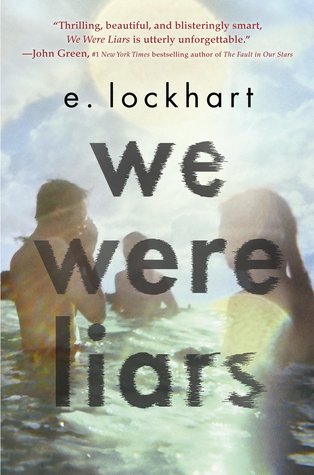 We Were Liars

E. Lockhart
May 13th 2014 by Delacorte Press
Young Adult // Mystery // Contemporary
ebook, 228 pages
Goodreads // Amazon


★★★★★

A beautiful and distinguished family.
A private island.
A brilliant, damaged girl; a passionate, political boy.
A group of four friends—the Liars—whose friendship turns destructive.
A revolution. An accident. A secret.
Lies upon lies.
True love.
The truth.

We Were Liars is a modern, sophisticated suspense novel from New York Times bestselling author, National Book Award finalist, and Printz Award honoree E. Lockhart. 

Read it. And if anyone asks you how it ends, just LIE.
Read: Aug 12 — Aug 14 (2014)
Source: own
Rosie's Thoughts
This was not what I was expecting at all. 
Of course, I had no idea what the book was about... Do you SEE that Goodreads blurb up there?! There's nothing really to go on. 
Still... how am I supposed to review a book that I'm basically told not to talk about? Ha ha.
Well, I can tell you this:
GOR-GE-OUS writing. Parts of a sentence broken into one or two words per line... I don't know, I just fancied it a lot. 
It's a story about 3 cousins plus-a-sorta-halfway-adopted cousin, and their rich family.
Main setting: an island!
A mystery. (which I sorta figured out from the time the main character returned to the island after her "accident", but then I doubted myself, but then at the end, I was RIGHT!)
Even though I basically figured out the mystery, I loved it none-the-less, heartbreaking though it was.
Like I said, I don't want to tell you (and sorta not allowed to because of the unspoken rule it's got going on) anything else. Please just read it for yourselves! 
PS...everything I just wrote about up there? Yeah, well...it might be a lie.
If you've read We Were Liars, do keep the comments spoiler-free, please and thank you :)
iPod Picks

Losing Your Memory // Ryan Star // 11:59
Play me


Island in the Sun // Weezer // Weezer
Play me